The City Break with Over 300 Days of Annual Sunshine
Pressed for time? Malta is the ideal city break location for anyone wishing to take a few days in paradise. Whether it's adventure, culture, gastronomy or simply pampering that you're craving, you'll find everything you need at your fingertips.
VALLETTA
Start at the Triton Fountain and walk towards the main entrance to Valletta. The fairly new City Gate is the fifth one to have stood here, and was built between 2011 and 2014. The original gate dated back to 1566. Once you pass through the gates, continue straight to reach the centre of Valletta, or turn right and head towards the Upper Barrakka Gardens.
Upper Barrakka Gardens
These are stunning public gardens with views over the entire harbour. The gardens are found on two levels, with a lift and a short walk making the Lower Barrakka Gardens accessible. From here you will also have a great view over the Three Cities – Vittoriosa, Senglea and Cospicua.
The gardens are a perfect photo spot, with the viewpoint and beautiful architecture, as well as lovely flowers all around. There is a small cafe here too, so feel free to sit down and relax and take your time.
Lower Barrakka Gardens
These gardens are equally beautiful and full of history. Again with great views of the Grand Harbour, from here you can walk towards Fort St Elmo.
Fort St. Elmo
The fort is now home to the National War museum and a hub for all things historical. The fortress was constructed in 1552 and has a very unique star shape.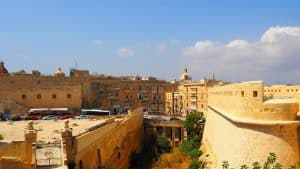 The Three Cities
Vittoriosa, Senglea and Cospicua are also known as Birgu, L-Isla and Bormla. Make sure to remember this or you may get very confused when you try to visit one of them! Two of the cities are small peninsulas, both facing the Valletta waterfront. The cities are fortified, so again full of history, forts and incredible architecture.
MALTESE LOCAL PASTIZZI
These tiny purses of glistening pastry are the very essence of local street food and an awesome introduction to the Island's rich and colourful cuisine. Though guaranteed to satisfy even the strongest of hunger pangs, stopping at one is much more easily said than done.
When it comes to fillings, one can choose between piżelli (curried peas mashed to a tantalizingly soft consistency, with a slightly salty punch), or the phenomenally creamy local ricotta cheese. For those craving something slightly sweeter, there are nutella ones too.